Features
Description of
tart shell press making machine
:
Egg Tart, Taiwan called for a English tart tart, "tart", which means the pie fillings exposed (relative surface crust cover seal stuffing group tart pie); Egg Tart with egg paste fillings tart". The skin is Egg Tart surface crust.
This type of machine has 3 kinds of speed, 8 cm and above egg tart, one minute can produce 28. 7 cm and the following egg tarts, 36 for one minute. If you specialize in egg tarts for one minute, 45. This machine is dedicated to food processing manufacturers and catering processing and production, saving manpower and efficiency.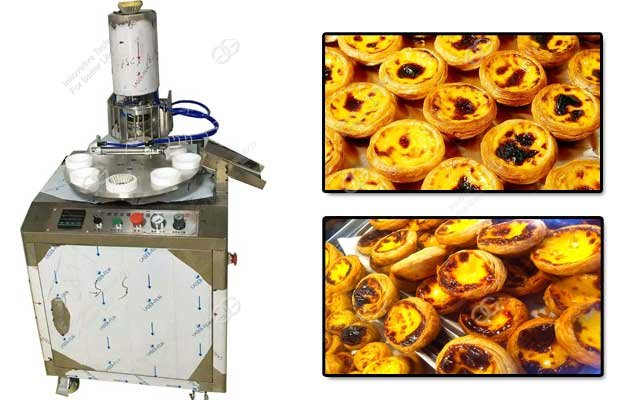 Tart press machine features:
the use of microcomputer control, forming pressure, rotating structure, stainless steel shell, heat / cold punching die base, with different mold, molding Egg Tart etc..
Egg tart skin raw materials:
Low gluten flour 135 grams, 15 grams of flour, 20 grams of butter (or butter), Ma Qi with 125 grams, 75 grams of water, this kind of food not only has the advantages of simple preparation and high quality and inexpensive raw materials.
Tart shell making machine
working video for making egg tarts:
Technical Data
Model
GG-X36
Capacity
36 pcs/min.
Power
500W, 220V 50Hz Single-phase
Air Consumption
0.2m³/min. (0.6-0.8 Mpa pressure)
Customers themselves ready to air compressor
Dimension
L650*W750*H1350mm
Products List
Hot Products