Features
Introduction of
waffle cornet making machine
:
The factory was established in 2010, specializing in the production of ice cream cone equipment, is a leader in the industry, the factory can provide mechanical installation deployment guidance, technical guidance, customer service and maintenance, the main equipment Granville of the ice cream cone machine, crispy cone machine, egg Tart machine, waffle machine and so on, in which the machine is today this machine, this machine is full automatic operation, high-quality materials produced by stainless steel. It suitable for Western restaurant equipment, cake room equipment, leisure food plant equipment, distillery equipment.

The automatic ice cream cone machine is a popular hot product in the current food market - the ideal processing equipment for ice-cream crisp canister. The cone made of uniform color, bright color, crisp and clean. Selection of high-quality formula, called the color and flavor of good food, for both young and old. The cone yellow crisp is a popular food in urban and rural areas for all ages, with its entrance, rich flavor, crisp taste, rich nutrition and loved by the people.

How many pieces cones of a kilo flour can make?
Computational formula: raw materials (water evaporates, negligible) ÷ cone weight
(1 kilograms flour, water and sugar and so on, the total weight is about 2.3 kilograms, the water will evaporate, neglecting, the rest is the total weight divided by the single weight, can get how many pieces cone.)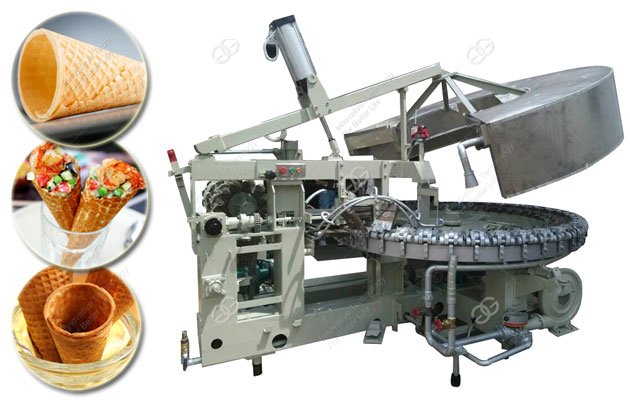 1. On payment:
The first payment of the order is 40%. After the packing machine is ready to pay 60%, our company arranges the delivery, and can also bring the goods to the door. The specific circumstances can be negotiated.
2. On delivery:
Local logistics in all parts of the country, general large goods delivery logistics freight, can also express, freight by our pay or buyer pay, specific circumstances can call details.
3.about after sale:
After purchasing our packing machine, we send professional and technical personnel to your company for installation, commissioning and operation training. After the machine works well and the workers are skilled in operation, our technician can leave the factory. All the packaging machines in our company are guaranteed for one year from your purchase date. During the warranty period, there are quality problems in the warranty period. Our company sends professional and technical personnel to timely maintenance. The cost is borne by our company and the life tracking service system is implemented.
Technical Data
Model
GGTT25
Voltage
380V
Power
1.5Kw
Gas consumption
4Kg/h (4.2m³/h)
Compressed air pressure
0.6MPa
Weight
3000Kg
Machine Size(mm)
3200*2700*1900
Product size(22.5degree)
caliber
42-48mm
length
100-115mm
capacity
2500pcs/h
Products List
Hot Products