Features
Tart pressing machine manufacturer
:
We are a professional tart processing machiery manufacturer, we have been doing this industry for many years. Our products are of good quality and novel style. Our machines are mainly exported to all over the world, and we have received good feedback from many customers.
Features:
Automatic egg tart skin forming machine used in the production of traditional egg tarts, Portuguese tarts and other shapes and sizes of egg tart products.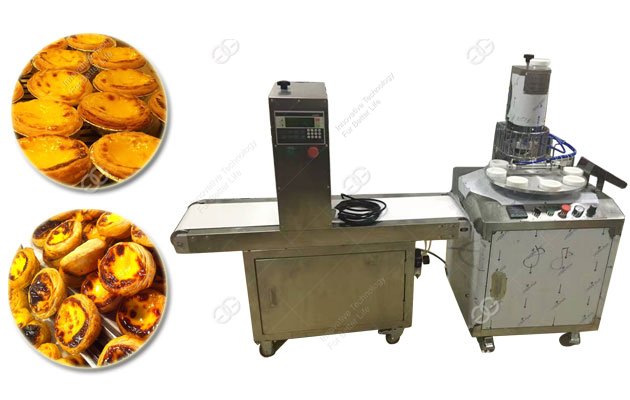 Product performance:
1, breaking the traditional pinch. Microelectronic control molding, a 4 seconds per minute 28 to 48 production.
2, simple and accurate, fast, lightweight, safe, easy to clean and maintain.
3, easy to change the mold, and the variety of products.
4, this product is used to do: desktop egg tarts, Portuguese egg tarts, Hong Kong-style egg tarts and so on.
Connect the 220V power supply -- air pipe -- Turn the power (emergency stop) switch on -- put the material into the cup into the handle (after reaching the set temperature value) -- push the handle molding -- pull out the handle.
Technical Data
Model
GG-X36
Capacity
36 pcs/min.
Power
500W, 220V 50Hz Single-phase
Air Consumption
0.2m³/min. (0.6-0.8 Mpa pressure)
Customers themselves ready to air compressor
Dimension
L650*W750*H1350mm
Products List
Hot Products