Features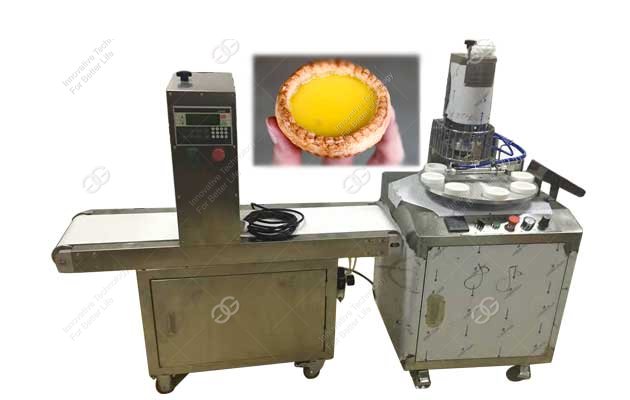 The
Portuguese Egg Tart Making Machine
Advantage:
1, the machine after our many years of processing reform, to enter the mature stage;
2, the use of exclusive hot stamping bottom temperature control technology, so that the machine in the long run process the production of egg tart skin intact;
3, the mold can be changed according to customer needs, one can produce a variety of shapes and specifications of the egg tart, greatly saving production costs;
4, the internal accessories are imported brand configuration, improve production efficiency, but also extended the machine service life;
5, external use of 202 stainless steel, anti-corrosion, if you have other needs, we can also customize.

Machine install and adjust:
1. The machine is placed in the designated position, the four-wheel brake can be stopped.
2. Power Connection: AC Three-phase four-wire 380V, 50Hz power supply, wire diameter 1.5mm2, the equipment must be equipped with grounding protection device.
3. The connection of the trachea: air compressor (at least 1HP above), air pressure should be used in more than 6 kilograms, pipe diameter ø6mm.
Technical Data
Model

GG-X36

Capacity

36 pcs/min.

Power

500W, 220V 50Hz Single-phase

Air Consumption

0.2m³/min. (0.6-0.8 Mpa pressure)

Customers themselves ready to air compressor

Dimension

650*750*1350mm
Products List
Hot Products