Features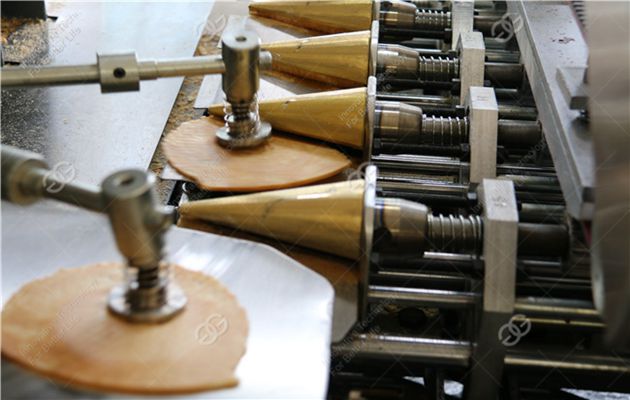 The introduction of
Automatic Rolled Ice Cream Cone Machine
:
The cone making machine is driven by the 3 phases power and backing oven is heating with gas (natural gas or liquid gas),electric ignition, oven temperature electronic display. The ice cream cone machine producing ability is very high and it is all automatic from spraying the batter, baking, forming, falling off from molds, conveying products, stacking and counting.

The features of Automatic Sugar Cone Baking Machine:
(1)Cone making machine is suitable for making flat mouth sugar cone length less than 120mm. Cone degree, weight, thickness and pattern spacing customized according to customer demand.
(2)It is consist of 280*240mm baking plates, plates material is high-qualified ductile cast iron, each plates can make two cone sheets.
(3)We can also design and produce other specifications and models according to our customers' requirements.
The same furnace, choose different molding device, can produce round cake, egg roll, egg roll, etc.
Technical Data
| | | | |
| --- | --- | --- | --- |
| Model | GG37*2-16A | GG45*2-16A | GG53*2-16A |
| Drive motor | 380V 1.5KW | 380V 1.5KW | 380V 2.2KW |
| Rolling system motor | 380V 0.37KW | 380V 0.37KW | 380V 0.37KW |
| Air blower | 380V 1.1KW | 380V 1.1KW | 380V 1.6KW |
| Gas consumption(kg/h) | 5-7 | 6-7 | 8-12 |
| Producing capacity(pcs/h) | 3500-4000 | 4500-5000 | 5500-6000 |
| Food-grade conveyor | 5000*460*500 | 5000*460*500 | 5000*460*500 |
| Automatic counter | 3000*460*400 | 3000*460*400 | 3000*460*400 |
| Mixer | 190L | 190L | 190L |
| Machine measurement (m) | 7.05*1.90*1.73 | 8.52*1.90*1.73 | 9.80*1.90*1.73 |
| Total weight | 4200kgs | 4800kgs | 5300kgs |
Products List
Hot Products